Client Services
>
Quantitative Research System
---
Quantitative Research System
DBM Power
Since 1978 the Zacks data warehousing software has been the gold-standard for custom database creation, modification and maintenance and is easily adaptable to suit any quantitative environment.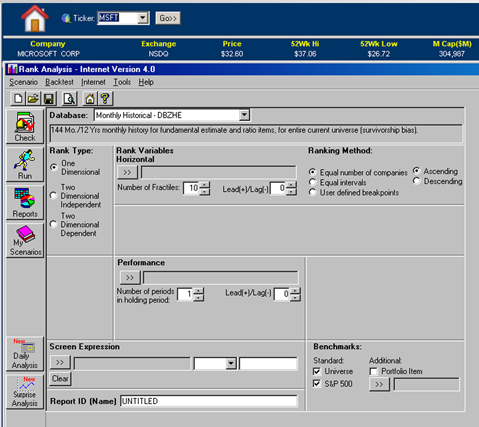 Zacks Rank Analysis
Backtest and enhance existing strategies or design, backtest and implement new strategies with the most powerful U.S. equity backtest system available in the market today.
Trading Strategy Evaluator
Extend the backtest experience with the flexible, easy to use investment performance simulator utilizing such criteria as buy/sell rules, time frame, commissions/slippage, maximum number of positions, weighting tolerance, rebalancing frequency, and more.
Portfolio Optimization
Both long-only and long-short portfolios can be optimized with user defined risk and expected return tolerance factors or one can choose to optimize with the highest expected return amongst a set of one or more portfolios subject to an upper bound on risk.
Consulting Services
The Zacks Consulting Services group strives to help your portfolio management strategies perform more efficiently. Whether one requires investment strategy development and evaluation or performance studies and audits, the Zacks consultants can assist with design, execution and implementation.